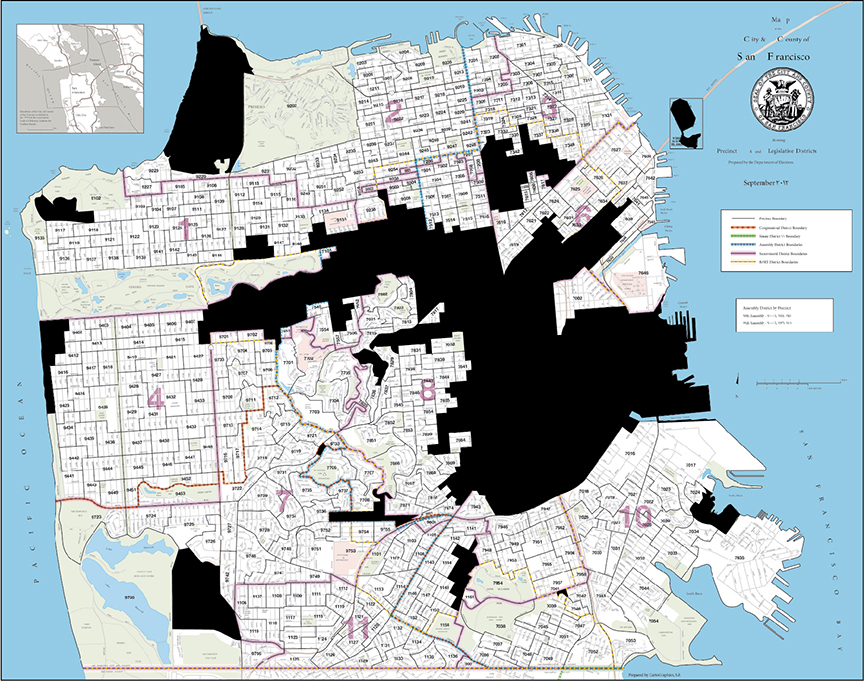 In the November 3 election, incumbent Ed Lee won reelection for Mayor of San Francisco. This was hardly a surprise—most newspapers in town acted as though the Mayor had no rivals. (In fact, there was a team of candidates urging a "1-2-3: Anyone but Lee" vote, taking advantage of San Francisco's ranked choice system to collaborate with one another rather than compete.)
While hardly anyone expected that Lee wouldn't win, it's a little surprising how little of the vote he got. The above map marks all precincts in San Francisco where voters preferred the 1-2-3 team to Lee: Virtually all of the Mission, much of the Haight, much of SoMa, much of the Tenderloin, Treasure Island, and scattered pockets elsewhere in the city. A large contiguous chunk of the city determined that Ed Lee was not its choice for mayor. The geographic centralization of this opposition, combined with a similar focus for support for the Mission development moratorium (Prop I) and the Airbnb accountability (Prop F)—both measures opposed by the Mayor—suggest that it is on precisely the issue of housing that Mayor Lee has lost that segment of San Francisco.
The Mayor won 56% of the vote, which is a solid victory in most elections, but is actually a rather poor showing in an incumbent's reelection: Gavin Newsom won 70% of the vote in 2007 when facing a similar field of competitors.
What's worse, the Mayor lost votes: In 2011, when first elected, he won with fractions of a percentage point less than 60% of the vote.
Mayor Ed Lee was Gavin Newsom's chosen successor, as Newsom was Willie Brown's. We've been living, now, through multiple iterations of leadership through the same political machine. But as we see the support decline from election to election, it's clear that the core of institutional power in San Francisco is losing more of the electorate than it can afford to. If the next institutional choice for mayor of San Francisco loses voters at the rate that Mayor Lee has, then we should see an upset in the 2019 mayoral election.
Assuming, of course, San Francisco has any tenants left.