September 15, 2015
Walgreens, which currently operates over 60 stores in San Francisco, now provides recycling of California Redemption Value (CRV) beverage containers at 30 of those locations. The recycling hours at each store are the same as their regular business hours—including three locations open 24 hours per day. In addition, CVS/Pharmacy also permits CRV recycling in at least five of its 13 San Francisco stores.
These new recycling opportunities stand in stark contrast to the recent trend of recycling center closures in the city, with over 23 certified centers shuttered or evicted since 1990, including nine in the past five years. As a direct result of all these closures the state agency in charge of recycling, CalRecycle, mandated that several hundred stores selling CRV beverages, including many Walgreens stores, allow recycling of CRV materials at their businesses, or pay a hefty daily fee.
In 1986, California enacted the Beverage Container Recycling and Litter Reduction Act, popularly known as the "bottle bill." The bottle bill established "convenience zones" within a half-mile radius of urban grocery stores having greater than $2 million in annual sales (so-called "anchor stores"), and generally required at least one recycling center per convenience zone—usually located in the anchor store's parking lot. Any convenience zone without a designated recycling center is labeled "unserved" by CalRecycle.
San Francisco currently has 58 separate convenience zones, with 38 now unserved (almost two-thirds of the total)—offering no recycling on their premises or certified recycling center nearby. Thus, CalRecycle has directed all stores selling CRV beverages within each of these unserved zones to either provide in-store redemption for all CRV containers—or pay a $100 daily fee to CalRecycle ($36,500 annually). These provisions are mandated by California Public Resources Code (PRC) section 14571.6, subdivision (a) ("Option A")—providing in-store redemption of CRV containers, and PRC section 14571.6, subdivision (b) ("Option B")—stipulating the $100 daily fee. Under the law, each store must choose either Option A or Option B.
Thus, many corporate or franchised stores, such as Walgreens, CVS, and 7-11, and numerous mom-and-pop stores including neighborhood markets and liquor stores—and the anchor stores themselves, must provide in-store redemption or remit the daily fee if located in one of the unserved zones. Walgreens corporate officials chose Option A and in-store redemption for their selected stores, thus avoiding a total fee of just over $1 million annually for all 30 stores.
As of September 2015, the following Walgreens locations provide CRV recycling: 33 Drumm St. (near California); 88 Spear St. (at Mission); 116 New Montgomery St. (at Mission); 135 Powell St. (at O'Farrell) [OPEN 24 HOURS]; 141 Kearny St. (near Sutter); 275 Sacramento St. (at Front); 300 Gough St. (at Fell); 300 Montgomery St. (at Pine); 320 Bay St. (near Powell); 456 Mission St. (at 1st), 498 Castro St. (at 18th) [OPEN 24 HOURS]; 500 Geary St. (at Taylor); 670 4th St. (at Townsend); 730 Market St. (near O'Farrell); 776 Market St. (near Ellis); 825 Market St. (near 4th); 1300 Bush St. (at Larkin); 1301 Franklin St. (at Post); 1333 Castro St. (near 24th); 1363 Divisadero St. (at O'Farrell); 1496 Market St. (at Van Ness); 1524 Polk St. (near California); 1979 Mission St. (at 16th); 2120 Polk St. (at Broadway); 2141 Chestnut St. (near Steiner); 2145 Market St. (near Church); 3001 Taraval St. (at 40th Ave.); 3201 Divisadero St. (at Lombard) [OPEN 24 HOURS]; 3601 California St. (near Spruce); and 5260 Diamond Heights Bl. (near Duncan).
The following five CVS/Pharmacy stores have also chosen to recycle CRV materials: 377 32nd Ave. (at Clement); 499 Haight St. (at Fillmore); 1285 Sutter St. (at Van Ness); 2025 Van Ness St. (at Pacific); and 2280 Market St. (at Noe/16th).
For all but two of the above-noted stores, Walgreens and CVS submitted signed Option A affidavits to CalRecycle, declaring under penalty of perjury that each store beverage dealer "redeems all empty beverages labeled "California Cash Refund", "CA Cash Refund", CA Redemption Value", or CA CRV"; during all hours the dealer is open for business."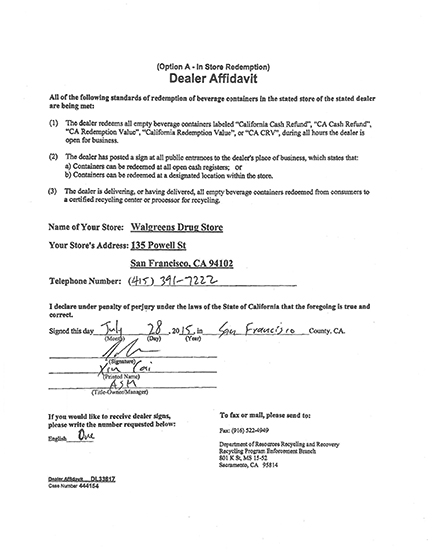 A relevant consequence of agreeing to provide in-store redemption is that each store must redeem ALL quantities of CRV containers. This was confirmed by CalRecycle Inspections Unit Supervisor Jason Pagan, who stated,"There are currently no statutory or regulatory provisions limiting the total count and/or weight of materials, either by transaction or on a daily basis, a consumer can offer for redemption at a dealer." Thus, the amount of CRV containers that may be redeemed at any one time or per day is unlimited at the participating Walgreens and CVS locations. In addition, since three Walgreens stores are open 24/7, those locations offer unlimited CRV recycling at all hours.
Copies of 30 Walgreens and three CVS affidavits are available online at www.ZeroWasteSanFrancisco.org website. In addition, a copy of the affidavit for Walgreens 24 hour store at 135 Powell (at O'Farrell) is pictured above. The affidavit shows it was signed on July 28, 2015 by ASM (Asst. Store Manager) Xin Cai, who also ordered one CalRecycle sign. State law requires each store that chooses Option A to post a 10 by 15 inch CalRecycle sign at or near the store's public entrances, stating in part "WE ARE REQUIRED TO REDEEM ALL CRV BEVERAGE CONTAINERS WITHIN THIS STORE" (see sign graphic below). Although most Walgreens locations have posted the signs, several have yet to do so.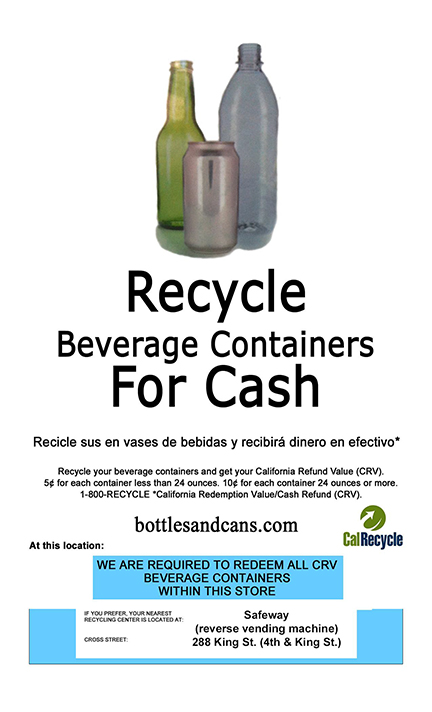 As far as the logistics of recycling CRV materials at these locations, each store redeems CRV containers by count (not weight), with containers up to 24 ounces worth 5¢ each while those 24 ounces or greater are worth 10¢. Walgreens generally redeems CRV containers at their photo department register, although store personnel may sometimes redeem CRV at any open register.
The decisions by Walgreens and CVS to step up and provide beverage container redemption at 35 locations throughout the City will help to partially fill the void in bottle and can recycling that was lost after Safeway and other supermarkets and anchor stores closed or evicted the once numerous recycling centers from their long-standing locations throughout the City.
Having these Walgreens and CVS locations available for convenient recycling in the coming months and years will assist with the City's goal of zero waste by the year 2020. In addition, the thousands of CRV containers sure to be left behind by Super Bowl Party revelers next February will be easily recycled at the several nearby Walgreens stores, helping to cut down on unsightly trash and keep San Francisco clean for residents and visitors alike.
Please recycle.