by Sam Lew
On August 22, over 100 health care workers, community members, and public health advocates showed up to the Behavioral Health Center's Adult Residential Facility (ARF) to protest the displacement of those who are mentally ill from the facility.

The ARF is a board and care facility that houses the City's most vulnerable clients who have serious and persistent mental illnesses and cannot live independently. Residents of the ARF may be unable to prepare their own food, do their own laundry, or manage their own money. They also may be unable to manage their medications, without which they would return to suffering major psychiatric crises on a regular basis, and would cycle through the city's emergency rooms and psychiatric emergency room.

The San Francisco Department of Public Health is displacing severely mentally ill residents who are permanently housed at the ARF to expand a navigation center that only offers temporary shelter for unhoused people with. Without notice or community input, Public Health sent a letter informing behavioral health care workers that the adult population will be shrinking by 41 beds to only 14 permanent beds. City health care workers, too, will be displaced from work with this sudden reduction in beds. Essentially, the City is evicting one vulnerable, permanently housed population to house another temporarily, when they should be providing long term care and housing for any and all San Franciscans who need it.

Since the 1970s, more than 2,000 board and care beds have been lost, and that loss plays a large role in creating SF's current homelessness crisis. Much of that loss is recent. In 2013, San Francisco had a total of 999 board and care beds; today that capacity has been slashed nearly in half to 513. Board and care facilities play a critical role in housing vulnerable people who would otherwise be homeless.

"This is the only board and care facility that is publicly run," says Jennifer Friedenbach, executive director of the Coalition on Homelessness, which also publishes the Street Sheet. "It is permanent. This is exactly what we need in our system. And they're talking about taking 41 beds and replacing it with a navigation center where they come in and they go back out."

The navigation center beds, often lauded as the solution to homelessness by public officials, rarely equate to an exit out of homelessness, and shelter residents usually stay somewhere between 30 to 60 days before being churned back out onto the streets. Beds in a navigation center represent a temporary respite, but are in no way a long-term permanent residency like beds in the ARF.

"This is a valuable resource to us," said Friedenbach. We're fighting to try to expand the system. Why is City Hall working against us?"

The department claims that the ARF is an underutilized resource: It hasn't admitted any new clients since September 2018. But this isn't because those beds aren't needed; it's because the department has failed to staff up. The solution, it seems, isn't to inhumanely displace severely mentally ill San Franciscans, some who have lived in the ARF for over 15 years, but to focus on how to increase staff at the facility.

In the next 60 days, 19 residents in of the ARF will have to relocate. Public Health has asked them to move up to the second floor, which is a facility for elderly people with mental illnesses.

Shawn Dubin, the former program director of Creative Arts, says that uprooting people who consider the first floor of the Behavioral Health Center their home will be "incredibly disruptive." She also says that without another place to stay at the same level of care, ARF residents will face the challenges of homelessness: "It's going to be into the gutter, and then into jail. Preventative care is so much better than after the fact."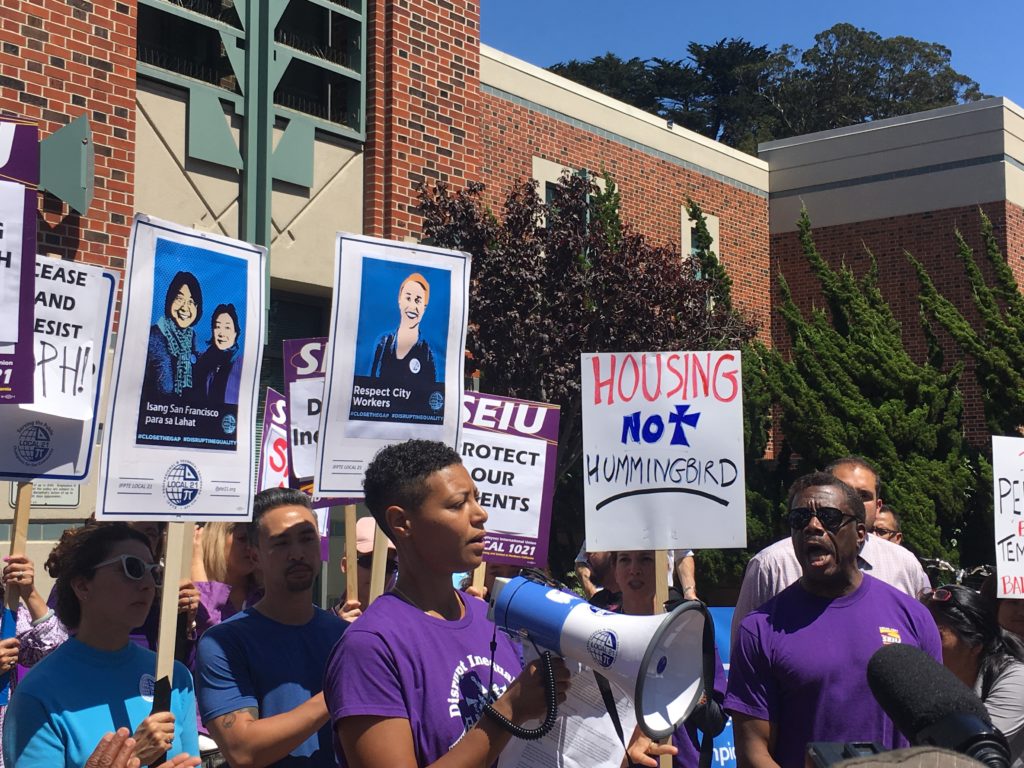 Under California Health and Safety Code, reductions in public health services require a public hearing and the public must be given at least 14 days notice before that hearing. No notice has been given, even though, according to Mission Local, the City had taken action earlier this year in May to decertify the beds and repurpose them as shelter beds.

Jennifer Esteen, a psychiatric nurse with Public Health on the City's transitions placement team, led rally goers in a chant demanding public hearings, public notice and fair access and ended with a call for expanded services: "If the mayor truly recognises the need for housing and treatment for our mentally ill residents, then why close these beds? The same [health and safety] code says that the county shall fulfill its duty to provide care to all indigent people. ALL people. Not those who are homeless, but not the mentally ill. Not those who are mentally ill, but not the homeless. ALL indigent people. Our clients are all residents of SF and all deserve to have access to services in San Francisco."

###