Over 100 people gathered in front of San Francisco's City Hall to protest the $6.2 billion in federal cuts to the Department of Housing and Urban Development and Trump's proposed figurative and literal walls. Accompanied by a five-person band, the Brass Liberation Orchestra, the group marched down Market Street with colorful signs that depicted Trump's wall and business improvement districts, and to the federal building on seventh and mission streets. Once at the federal building, participants formed a wall using their bodies and signs.
"This wall divides the haves and have-nots. San Francisco is laudedas a bastion of liberalism and progressivism and prides itself as being a sanctuary city when there is no sanctuary here," says Bilal Ali, human rights organizer with the Coalition on Homelessness in San Francisco.

The rally comes at a time when homeless encampments in San Francisco continue to be cleared. On July 20, the San Francisco Police Department and the Department of Public Works removed a large encampment on Ninth and Brannan streets without offering almost any services. Advocates, including District 6 Supervisor Jane Kim, have called for safe sleeping sites for homeless people as a possible, temporary relief to constant police harassment.
"Housing is a human right! But do we expect the state to provide it for us? They're spreading false hope when they tell us to wait for housing," says Nicky, an organizer with the Sacramento Homeless Organizing Committee. "How many folks to do you know waiting on these housing lists? How many folks do you know wait and then find out they're not even on the list?"
Participants at the rally represented multiple states—Oregon, California and Colorado—brought together by the Western Regional Advocacy Project, a coalition of homeless organizations primarily made up of formerly or currently homeless people along the west coast, including the Coalition on Homelessness, The group is a special one, perhaps because there is no other organization like it.
Following the rally, Ali facilitated what the Coalition on Homelessness calls a "Homeless People's Popular Assembly," dubbing people who have experienced homelessness the Mayor of the City and asking them each the same question—What would they do if they were mayor?
Says Yesi Koopman, who serves on the Youth Advisory Board at Larkin Street Youth Services, "I don't think we should spend all of our money on wars overseas. It's time to use the money to solve problems here, to use it for housing programs. We have to take care of the people here!"
"First thing I'm gonna do, and I'm gonna take all the people who are houseless and house them," he said at the assembly. "I'm gonna give them the services that they need to get back on their feet, provide jobs for them. For people who can't work, I will be able to provide services and food for them. A path to recovery so that they can heal themselves," said Robert, another participant.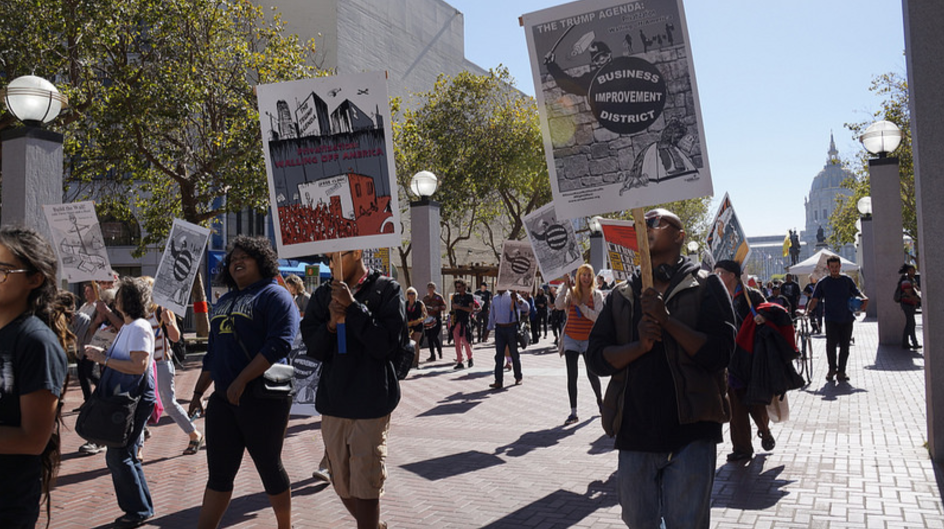 Included in the Homeless People's Popular Assembly was last year's Berkeley mayoral candidate, Mike Lee, the self-described "bum" for mayor. Now an organizer for the Berkeley-based group First They Came for the Homeless, Lee said, "My first declaration is that all public space is now open, twenty-four seven. My second declaration is that for all these empty buildings, in 72 hours, will be for unhoused people."
There is deep organizing work being done by unhoused people and their allies along the west coast. In addition to the rally, a two-day conference brought together the organizations where they discussed strategies, movement building and mobilization for the upcoming year across the western region.
The Western Regional Advocacy Project has specifically worked on state bills regarding a homeless bill of rights and a "Right to Rest" Act, which calls for the abolishment of laws that prohibit homeless people from existing in public space—including basic acts of behavior like sleeping, eating and resting.