May 16, 1962 – September 13, 2018
Russell Franklin passed away on September 13, 2018 from a severe brain stem injury after he was hit by a car while riding his beloved bicycle in a crosswalk at S Van Ness and Howard St. He was a quietly fierce warrior who was dedicated to his community— hosting friends for several months while they looked for housing, helping settle arguments by passing around joints, and providing clean needles to those in need.
He was born in Modesto and attended Beyer High School. After visiting San Francisco on and off for many years, Russell moved to the city in 2008 and completed Walden House rehab, where he met the love of his life and best friend, Daniel A. Amaral, Jr (aka: Dan the Blind Man).
Russell loved the feeling of freedom while cycling around the city and was proud of his Native American heritage. He also loved Folsom Street, frequenting Hole in the Wall Saloon where he wore a tie-dye shirt, drank PBR, and played pool with friends.
To honor Russell, SF Bicycle Coalition members successfully lobbied the SFMTA to upgrade Russell's crosswalk to prevent the next tragedy and Mayor Breed announced acceleration of Vision Zero safety upgrades in San Francisco to stop needless cycling and pedestrian deaths by cars.
Russell is survived by his cat Othello, many of his great friends including Dan the Blind Man, and his sister Kimberly T. McCarthy. He is predeceased by his parents and his brother Christopher D. Franklin. In lieu of flowers, his friends ask that you donate to the Walden House / HealthRight 360, the Native American Medical Center, or SF Bike Coalition, or that you smoke pot in Russell's honor.
A gathering will be held at the white memorial bike marking Russell's intersection near 1675 Howard Street, 94103 at 7:15 pm on Wednesday October 3, 2018 (RSVP here). The celebration will continue at Hole in the Wall Saloon, 1369 Folsom, where the suggested drink is PBR. Friends, acquaintances, cyclists, and others are encouraged to share stories and bring candles or memorial items of Russell that can be fastened to the white ghost bike.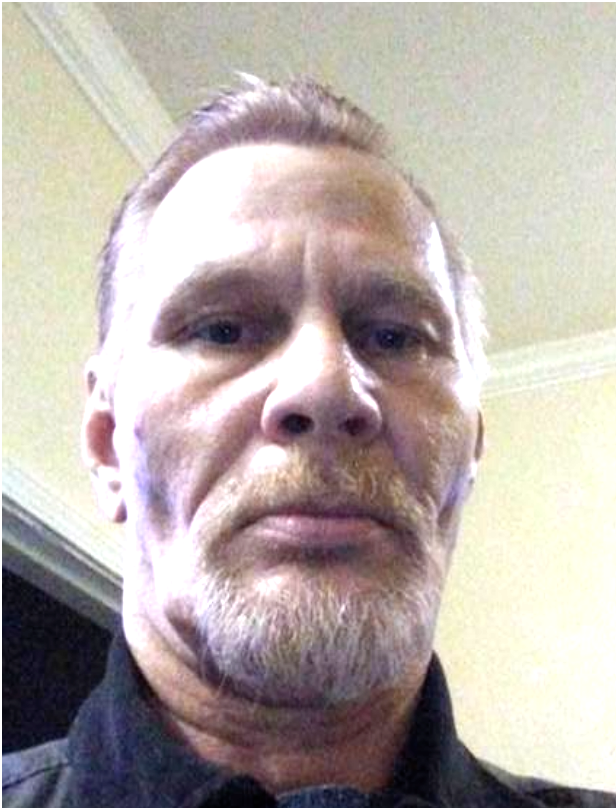 16 mayo 1962 – 13 septiembre 2018
Russell Franklin falleció el 13 de septiembre de 2018 por una lesión de su tronco encefálico después de ser atropellado por un carro mientras manejaba su querida bicicleta en un paso de peatones en S Van Ness y Howard St. Él era una guerrero magnífico que mostraba una dedicación muy grande a su comunidad — hospedaba a sus amigos por varios meses mientras buscaban vivienda, ayudaba a resolver argumentos compartiendo porros, y proveía agujas limpias y jeringas a quién las necesitaba.
Russell nació en Modesto y estudió en Beyer High School. Después de estar visitando San Francisco por varios años, Russell se mudó a San Francisco en el 2008, y completó un programa de rehabilitación en Walden House, donde conoció al amor de su vida y a su mejor amigo, Daniel A. Amaral, Jr (alias: Dan el Hombre Ciego).
A Russell le fascinaba la libertad que sentía al manejar su bicicleta por la ciudad. Sentía mucho orgullo por su ascendencia indígena. También le encantaba la calle Folsom, donde frecuentaba  Hole in the Wall Saloon con su playera tie-dye, y tomaba cerveza PBR mientras jugaba billar con sus amigos.
Para honrar a Russell, miembros del SF Bicycle Coalition se presentaran ante la junta de directores para que  SFMTA mejore el paso de peatones y prevenir más tragedias, y la alcaldesa London Breed anunció una aceleración de la implementación de Vision Zero, que va a resultar en cambios infraestructurales en San Francisco para tener mayor seguridad y para que se terminen las muertes prevenibles de ciclistas y peatones por colisiones con automóviles.
Russell es recordado por su gato Othello y varios amigos, incluyendo a Dan el Hombre Ciego, y su hermana Kimberly T. McCarthy. Antes de él, fallecieron sus padres y su hermano Christopher D. Franklin. En lugar de flores, sus amigos piden que la gente done a Walden House / HealthRight 360, al Native American Medical Center, o a SF Bike Coalition, o que fumen mota en honor a Russell.
Habrá una reunión en la bicicleta blanca conmemorando a Russell en la intersección cerca de 1675 Howard Street, 94103 a las 7:15 el miércoles, 3 de octubre de 2018 (por favor confirme su asistencia aquí). La celebración de la vida de Russell continuará en Hole in the Wall Saloon, 1369 Folsom, donde les recomendamos que tomen cerveza PBR. Están invitados sus amigos, ciclistas, y otros miembros de la comunidad a asistir y a compartir memorias, y a traer velas y objetos conmemorativos que puedan ser agregados a la bicicleta blanca de conmemoración a Russell.