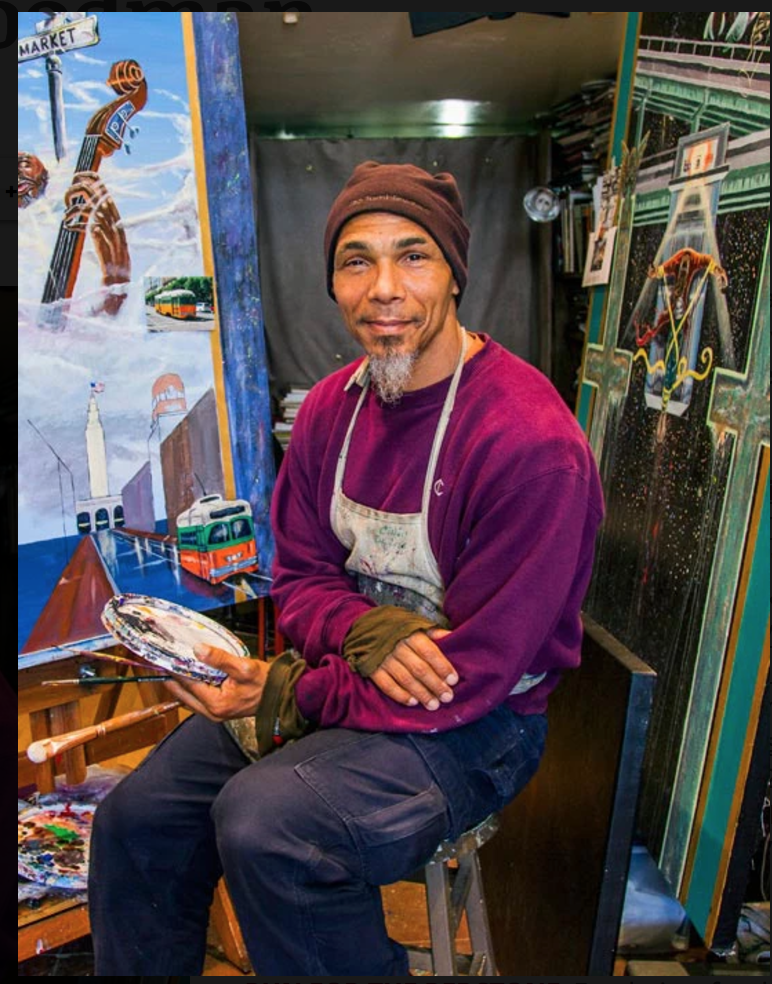 I grew up in San Francisco. I'm what you call one of those hippie childs. I grew up in the Haight Ashbury and I been here all my life, other than in prison. I grew up in the Fillmore area also, which back then, was the Black area of San Francisco in the 60s and part of the 70s. I went to Roosevelt Junior High and Washington High School.
I started drawing when I was six years old from my mother's boyfriend who used to design Harley Davidsons. He started giving me comic books. They had a lot of community art programs back then; there were a lot of street artists. They would sit there and draw and paint and did beat work and did all kinds of stuff in front of you. I grew up around it. My mother herself wasn't an artist, but I just became an artist because I started seeing art. My first drawing instruction was from my cousin—he showed me how to draw Batman and all the comic strips.
Growing up here in the city has had a great impact. I've seen marches, political activity, seeing people with signs. I was around the Black Panthers and other underground stuff that I barely remember as a child. I was around what they call the John Coltrane Church—I used to eat there on Divisadero Street.
When I went to prison, I became a prolific artist. It was a dark time, but it also became my light. I came to learn how to create. I was around nothing but artists in prison: tattoo artists, con artists, muralists—all types of artists that you could think of. By me drawing there, it was the only way I could buy things from the canteen; I had to draw for my living. I used to make greeting cards and trade them for a pack of cigarettes. Zuzus and wam wams, they were called. Coffee and cigarettes. I did family portraits and people bought me things from the canteen. It's illegal to do that in prison, but we got around that. My only way to survive was to make art. If I didn't do good art, I didn't get good money. I became sought out in prison as one of the best portrait artists. Nobody sent me no money.
I was in and out of prison. Four counts of bank robbery. Burglary. I was a drug addict. I thought that I was a thug; I was under the false illusion that it was only my way out. I didn't have a mentor, no direction, nothing to grab onto. No one was in my life was there to influence me except pimps, players, and prostitutes.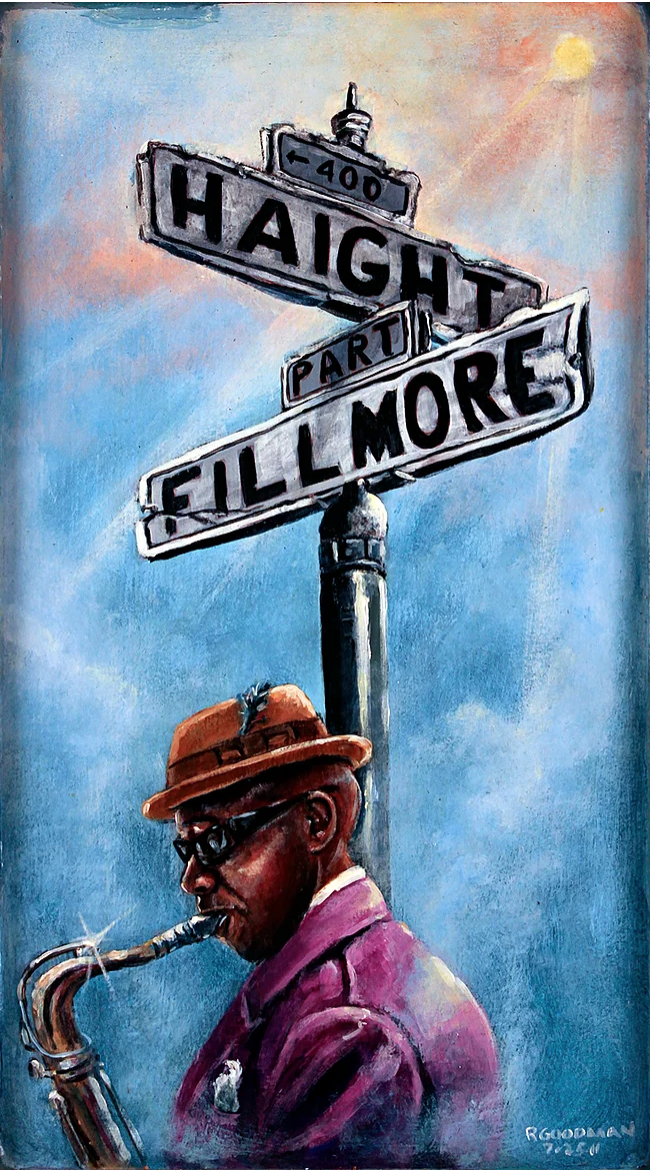 When I got out, I went to Precita Eyes, and that's when I started how to be an artist and how to make an income. I got to do a mural on Third and Carol named "Soul Journey." It made me learn that you can make a small income from your art, and I thought it was the best thing in the world. I got involved with Art Hazelwood, and he got me involved with the Street Sheet and I thought it was one of the greatest things that there was, to get involved. I started donating my art, and I didn't think my art would be able to support different programs like Hospitality House, but I helped raise a lot of money for their art program.
When I got out of prison, I had no choice but to be homeless. I just would get a tent and a sleeping bag and do the best I could. But my art was created to bring a light to homelessness.  I went to Hospitality House and it was a safe haven and they hold onto your artwork if you're homeless. You just have to suck things up and try to stay healthy and focused. It's a struggle. Being homeless is a struggle. You can be homeless, but you don't have to be hopeless. Why I'm here now is to give. Giving my art is something that I think is important. It belongs to the people to recognize the fact that art can make a difference.
I'm very visual because I can barely read and write. I live the life of an activist. I've been in prison, and I've been on food strikes, hunger strikes, I've been in riots. I've seen all of that stuff. I saw how art can make a big difference. You don't have to be violent. My greatest tool is my creative tool, which is my pencil and my paintbrush and that's my activism and my voice.
What I would say to aspiring artists is this: Stay creative and stay focused and don't try to overthink anything. Come from the heart and how you feel. Try to step back a few steps and listen to others opinions and reflect on it. But don't stop, don't ever stop creating. Just do it because you truly love what you're doing. The rest will come.
For more art by Ronnie Goodman, visit: www.RonnieGoodman.com. To contact Ronnie, email
RonnieGoodmanSF@Gmail.com.