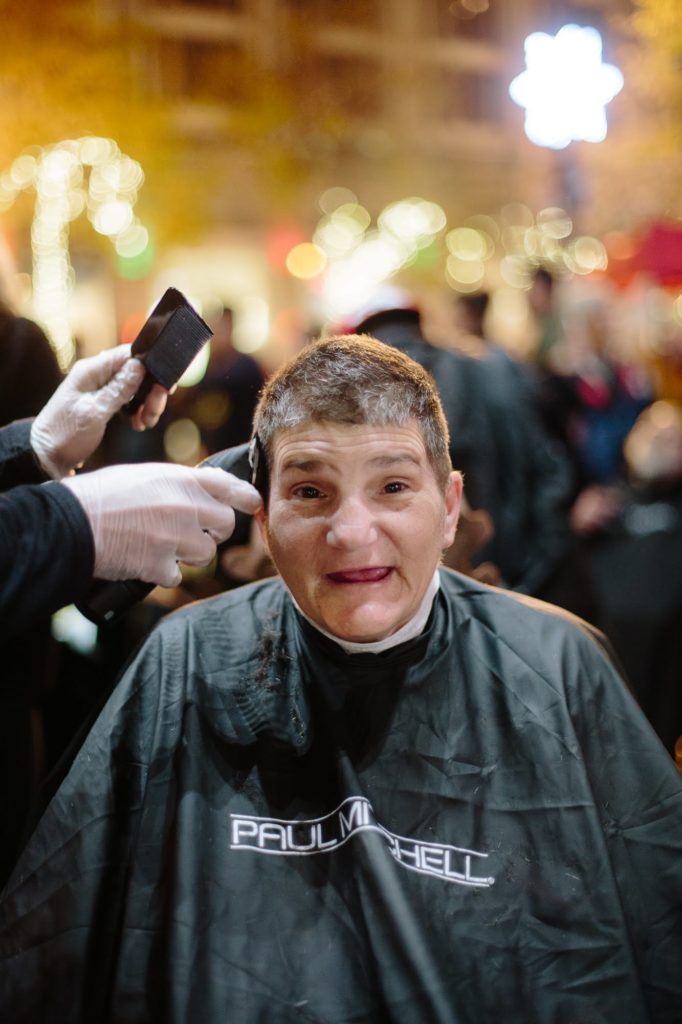 Neither rain nor darkness of night keeps postal workers from delivering the mail. Rainfall and darkness also didn't deter homeless people and their allies from staging an outdoor sleepout in downtown San Francisco.
While homelessness and hunger awareness events were happening nationwide that week, the Coalition on Homelessness, which publishes Street Sheet, staged its own event on November 16 near the entrance of the Powell Street BART station during the evening commute. Organizers said it was a protest against ongoing abuses against homeless people and the failure of the City to provide adequate housing.
"The ongoing criminalization of poor and homeless people serves only to exacerbate existing addictions and mental health issues, while doing nothing to place people in stable housing," said Sam Lew, the Coalition's policy director. "This sleepout action will call attention to the inhumanity of 'move along to nowhere' homeless sweeps and cry out for real solutions."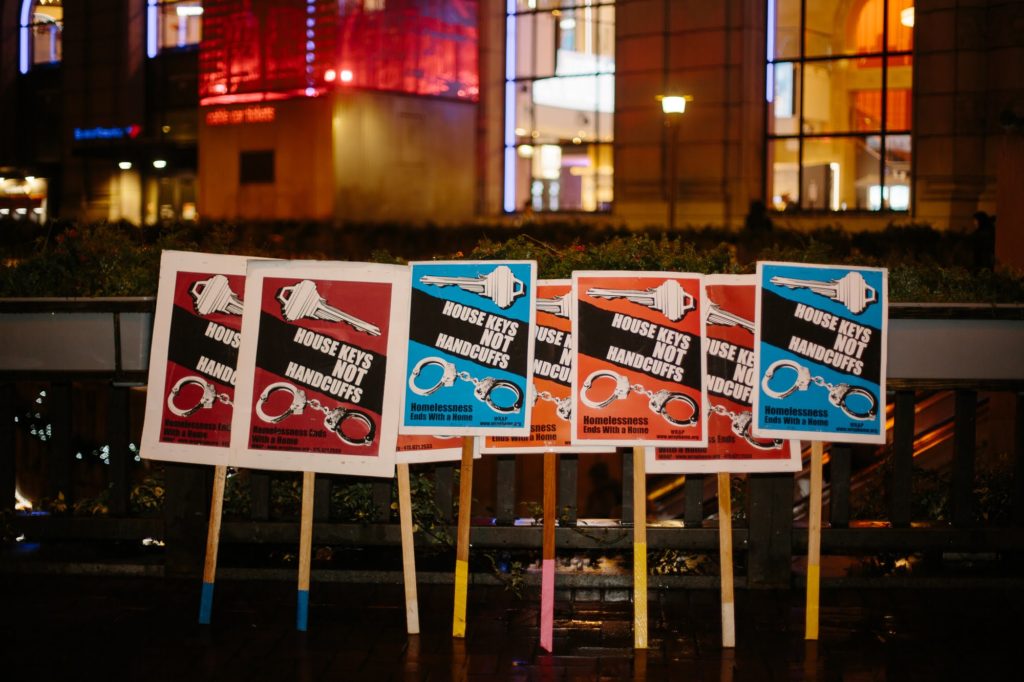 By the Coalition's estimate, up to 200 people gathered where speakers orated, volunteers served hot food and coffee, the Brass Liberation Orchestra jammed and cosmetology students gave free haircuts. Documentary footage was displayed on a makeshift movie screen, while people laid down on mats and sleeping bags until rainfall grew heavier. Around 11 p.m., campers brought their sleeping bags to the Coalition's Turk Street office and sheltered themselves for the rest of the night.
"A big goal of this event was for folks experiencing homelessness to get some rest, so we decided to head where it was dry and where the Dept. of Public Works wouldn't be waking folks at the crack of dawn," Kelley Cutler, the Coalition's human rights organizer, said.
But before the downpour, some of the homeless people shared their thoughts with Street Sheet on how the City treats its 7,500 unhoused residents. Street Sheet vendor Charles Davis said that homeless people are regarded as second-class citizens.
"The homeless get ignored all the time," he said. "We're considered a minority. We're people too. The only difference between us and regular people is that we don't have housing."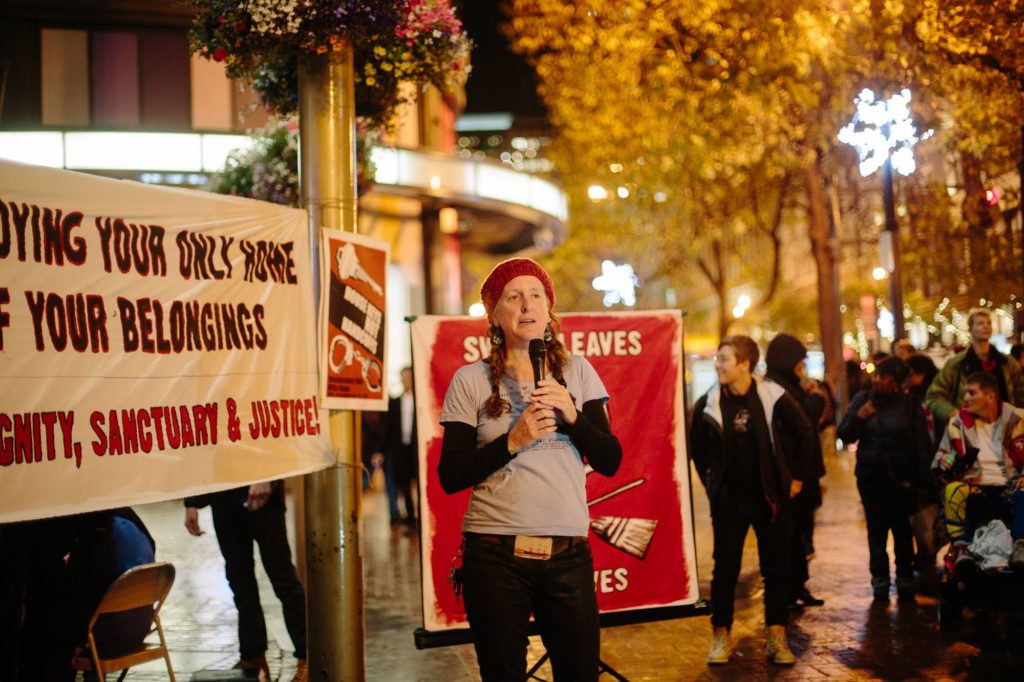 Tamara Cole, a formerly homeless person who moves in a wheelchair, received a haircut and also related on how police criminalized her when she needed their protection during her homeless stint.
"I was a victim of serious crimes, and they traumatized me more," she said. "They treated me like I was the criminal, and I was the victim of a crime. They kept telling me I didn't have any rights. I've been fighting them back."
The event also spurred volunteer food servers into action. Two workers, who gave their names as Sparkles and Felicia, said they see homelessness as a product of a growing economic disparity among San Francisco residents, which they believe Mayor Ed Lee has been doing nothing to redress.
"This is a place with so much grandeur and so much squalor at the same time," Sparkles said. "I don't think there's anything (about homelessness) to tell (Lee), I don't think he gives a fuck."
The City also misplaces priority on protection of personal property over providing housing or services from the Homeless Outreach Team, Felicia said. Efforts to clear homeless encampments — often referred to as "resolutions" — include temporary placement in Navigation Centers. But more often than not, police and public works crews conduct brutal sweeps that further traumatizes homeless people, forces them to less safe places or residential areas and illegally destroys homeless people's belongings.
"They've quadrupled police teams for car break-ins, but I haven't seen HOT team once," she said. "These people need equity, you know."
Community groups, as well as schools and colleges throughout the U.S., held similar actions as part of a weeklong campaign promoting awareness of homelessness and hunger. The campaign was organized by the National Coalition for the Homeless, based in Washington, D.C., and the Boston-based National Student Campaign Against Hunger and Homelessness.

On January 2014, the San Francisco-based coalition also organized a sleepout at the same location. That event coincided with Martin Luther King, Jr. Day weekend.