We are excited to present an upcoming benefit for the Coalition on Homelessness at the historic Roxie Theater! Mark your calendars for this special occasion: Saturday, August 12 at 1:30pm. Details below.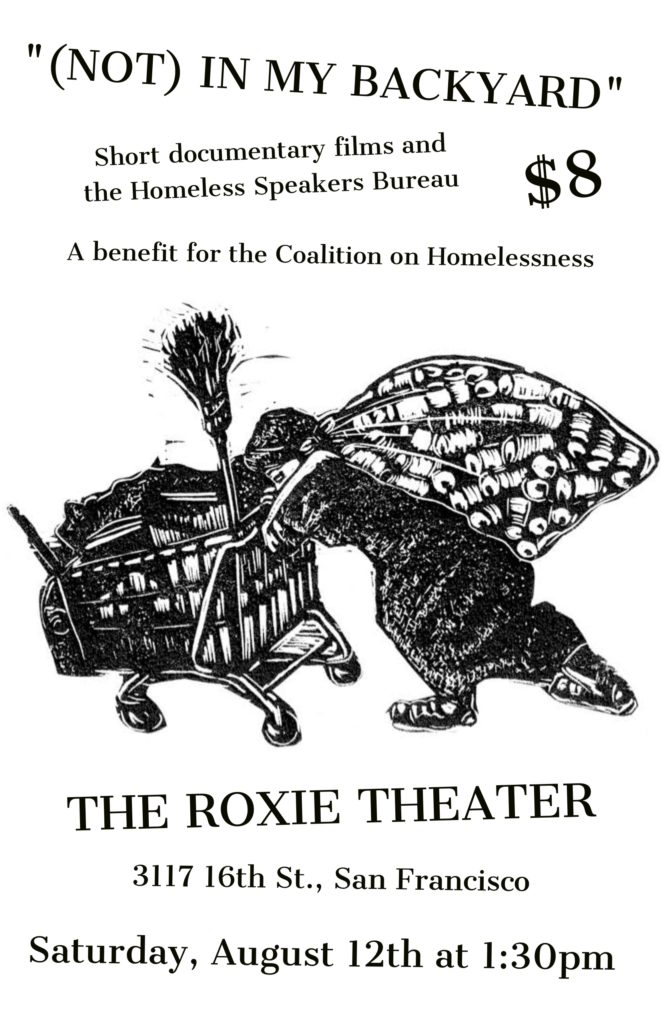 << BUY TICKETS ONLINE HERE! >>
–
(NOT) IN MY BACKYARD is an evening of local documentary short films on San Francisco's housing crisis, followed by a panel from the Homeless Speakers Bureau. The Homeless Speakers Bureau will be discussing the harsh realities of and some potential solutions to homelessness in the city. Films 60 mins., panel 60 mins. This event is a fundraiser for the Coalition on Homelessness.
–
Shorts Program:
"HOLDING OUT" – Dir. Rebecca Gourevitch, 20 mins., 2016.
With an eviction crisis reaching epic proportions in San Francisco, the city's residents must navigate changing landscapes and communities, while also facing the loss of their homes.
"HEART OF THE CITY" (trailer/vignettes) – Dir. Jon Sadrgilany, 15 mins., 2017.
This documentary film and news platform investigates San Francisco's socioeconomic divide in the Tenderloin neighborhood and its adjacent districts.
"WHO KILLED PARKMERCED?" – Dir. Nick Pasquariello, 13 mins., 2017.
For the first time in San Francisco history, the Board approved demolition of rent-controlled, irreplaceable, affordable housing. What, if any, is the future of affordable rent-controlled housing in San Francisco?
"HOME IS A HOTEL" – Dirs. Todd Sills & Kevin D Wong, 11 mins., 2016.
Huan Di and her daughter Jessica navigate a new language and culture while living in Single Room Occupancy Hotels, a vital but fast disappearing housing option for San Francisco's working class.
–
About the Homeless Speakers Bureau:
The Homeless Speakers Bureau provides a platform for homeless folks to speak about their experiences, on their terms. The bureau consists of a series of public speaking, communications, and media trainings for people who are currently or formerly homeless. At the end of the training series, Homeless Speakers Bureau participants are provided with speaking engagement opportunities, including at universities, faith-based organizations, nonprofits, and the most recent panel at the SF Public Library.
TJ JOHNSTON:
TJ Johnston is a San Francisco based journalist and long time contributor of the Street Sheet. He has submitted to publications such as the San Francisco Public Press and the Street Spirit, among others.
DARNELL BOYD:
Fifty-six year old Darnell Boyd is a private Single Room Occupancy tenant organizer with Central City SRO Collaborative. Darnell grew up in the Southside of Chicago and was homeless for over 10 years, but is now housed.
JACQUELYNN EVANS:
Jacquelynn Evans is a Peer Organizer at the Coalition on Homelessness. She uses the skills she developed during her years of homelessness to be of service to others, which she feels is her ultimate calling.
BILAL MAFUNDI ALI:
Bilal Mafundi Ali's experience in community organizing began at the age of 15, working with the Neighborhood Adult Participation Project in Los Angeles after the Watts Uprising. Bilal currently organizes with the Coalition On Homelessness and is founder of the People's Commission for Justice in San Francisco.
–
We hope to see you there! Share this with your friends on Facebook and click attending on our event!
Again, here's the link to buy tickets online!*
(*tickets also available at the Roxie box office)