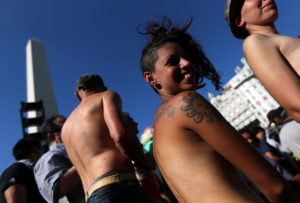 Dozens of topless women, joined by hundred of fully clothed protesters, demonstrated in Buenos Aires on Tuesday to demand the right to sunbathe semi-nude on February 7 to demand the right to sunbathe semi-nude after police asked bare-breasted women to leave a nearby beach.
Smaller protests have occurred throughout the country in recent weeks in response to the January incident and it remains unclear if Argentine law allows women to go topless on public beaches.
Police cited a national criminal code article prohibiting "obscene displays" to justify asking the women to leave the beach, although at least one judge ruled after the incident that going topless was not a crime.
Arguing that women should have the same right as men to sunbathe topless, the women chanted, painted slogans on their bodies, and held signs reading: "The only breasts that bother them are the ones that aren't for sale."
The demonstration in downtown Buenos Aires followed the "Not One Less" protests late last year in which tens of thousands of Argentines protested gender-related violence after the rape and killing of a 16-year-old girl.
The protesters said the incident on the beach exemplified social inequality between men and women in Argentina.
"In many places, when a woman reports gender violence, they don't listen, but when a woman shows her breasts, they send so many police," said Grace Prounesti Piquet, a 33-year-old photographer with the words "The breast is not a crime" painted on her back. "It's a shame."
The protest drew a large number of male gawkers, prompting chants of "Get out" from women demonstrators.
Courtesy of Reuters/INSP.ngo