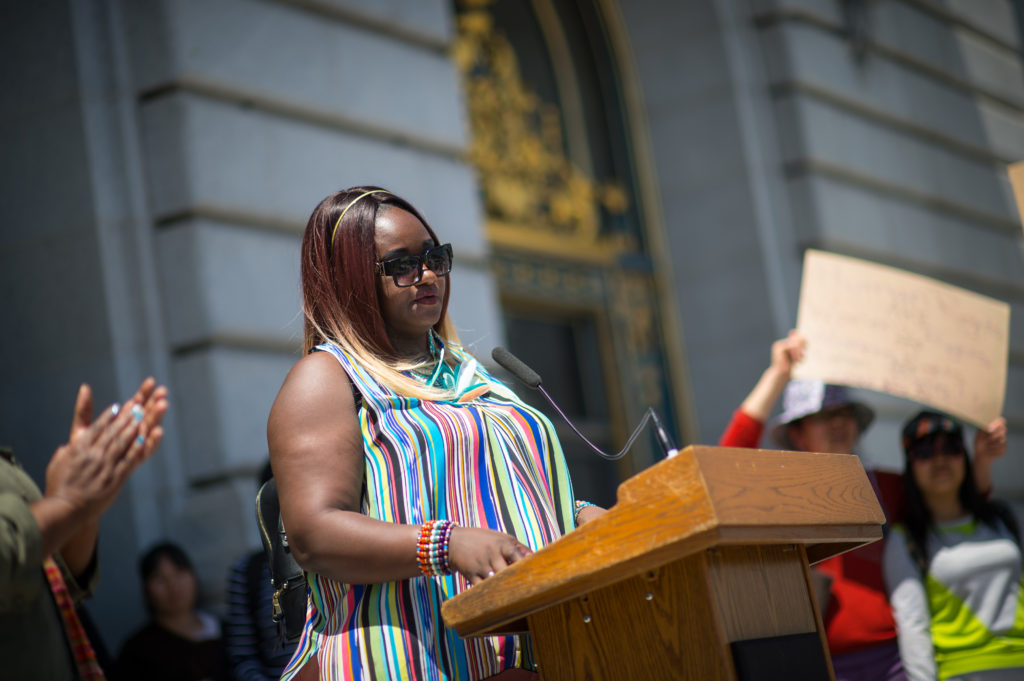 While she shares stories from her troubled upbringing, and her time living on San Francisco's streets, there isn't a hint of resentment in the voice of Jacquelynn Evans. Relaying her tales of loss and abuse, Evans speaks calmly, almost objectively. It's obvious that she has truly made peace with her past, a past riddled with dark chapters and difficult lessons. Through the telling, it becomes clear that she draws strength from the challenges she has overcome, and endeavors to use that strength in the service of others.
Evans, a San Francisco native, lost her mother at the age of 5. She was taken in by her grandmother, whose love and wisdom remains a source of inspiration to this day. Her grandmother passed away when she was only twelve, leaving Evans at the mercy of the foster care system after a brief period as a runaway.
"When they [CPS] finally caught up with me, I was 13, almost 14. From there, they kept putting me all over the place."
During this time, a young Evans was confronted with harsh realities that, according to her, "No child should have to endure." She felt like the people who were meant to guide and protect her betrayed her trust.
"They broke that trust, and it made me not trust anybody." While this was admittedly a difficult reality to accept, it shaped the sense of self-determination that has become a defining aspect of Evans' character.
"After that I had to find a way to survive. I had to find a way to make money, I had to find a way to stay dry. It wasn't easy. It was complicated, because nobody taught me any of those things. I had to learn them all by myself. But that's okay, because it made me the person I am today."
As a young adult, Evans worked a variety of jobs, sometimes providing in-home care, as well as canvassing for different organizations. While working constantly to earn a steady income, Evans struggled to find a stable living situation. She spent time on the streets, in and out of shelters, on the couches of friends and family, and was even briefly incarcerated. Through it all, she remained doggedly persistent in her pursuit of better opportunities.
"I literally applied to a housing place once a day. I applied for a job two or three times a week."
By force of sheer determination, guided by a self-taught sense of discipline, Evans was able to get herself off of the streets, and into a job she is passionate about.  
Today Evans is the mother of two children, 21 months and thirteen years old, and works two jobs: one, as a peer organizer at the Coalition on Homelessness and the other, as a hotel desk clerk. As a peer organizer, she is able to draw from her experiences living on the streets and in shelters to help members of the city's ever growing homeless population regain stable housing. Her own experiences give her compassion and a deep knowledge of homelessness that those who have not experienced homelessness lack. While Evans is new to the job, she has jumped right into it, advocating for and with homeless families, attending policy meetings with City officials, and organizing rallies and direct actions. Evans uses the skills she developed during her years of homelessness, to be of service to others, which she feels is her ultimate calling.
If there is one lesson that her life story can convey as an inspiration to others, it is this: "Your own power and will is the most important thing.  Nothing else matters.  If you don't have the power to keep going, if you don't have the will to stick it out, nothing else will ever matter."
When asked if she harbors any bitterness regarding her past tribulations, Evans simply laughs. "I've done some bad, I've done some good, and I seem to have come out on top of it. I'd much rather stay here where I am than dwell on where I was." She would rather focus on the confidence she gained from her experiences and to be an inspiring example to people who are struggling as she did.  She advises her peers to trust in their own power and says, most importantly, "Don't ever underestimate yourself."
The following is a poem by Jacquelynn:
We are Mothers.
We are women with thoughts and questions and shit to say.
We say we're beautiful, and we say we're strong. They will not determine our story.
We will.
So we raise our voices, not so we can shout, but so that those without voices can be heard.
We cannot succeed when half of us are held back. We are tough.
We are ambitious, and we know exactly what we want. As Michelle Obama says, there is no limit to what we as women can accomplish.
We need women at all levels including the top to change the dynamic reshape the conversation to make sure women's voices are heard and heeded, not overlooked and ignored.
We've all had it rough, and now is the time for the Mothers to fight together for housing.
For I conclude that the enemy is not women and children, but guilt itself. We deserve housing if we want it.
We deserve to be happy moms, safe from danger and taken serious or whatever we please.
We are entitled to have and hold the same luxuries as everyone else.