It has been one year since Luis Góngora Pat was shot to death by San Francisco police at the Mission District encampment where he stayed.
It will at least another year before his surviving family could seek answers—if not justice—at a federal court.
But on April 7, 2017, the first anniversary of this tragedy, about 100 people marched throughout the city, from the site of the 2016 shooting to City Hall.
As a sanctuary city, San Francisco doesn't automatically factor in immigration status when an immigrant interacts with local law enforcement. But Luis Poot Pat, Góngora Pat's cousin, said that his cousin was afforded little safety since emigrating from the village of Teabo in the Mexican state of Yucatán.
"My cousin suffered many injustices to get to this Sanctuary City only to face more cruelty here," Poot Pat said in a statement. "He suffered poverty, forced migration, low wages, illegal eviction, homelessness and discrimination, only to be killed by an act of senseless police brutality in less than 30 seconds."
Bilal Ali, an organizer with the Coalition on Homelessness, which publishes Street Sheet, was more blunt when he addressed the marchers.
"If you're homeless and an immigrant in San Francisco, there is no sanctuary," he said.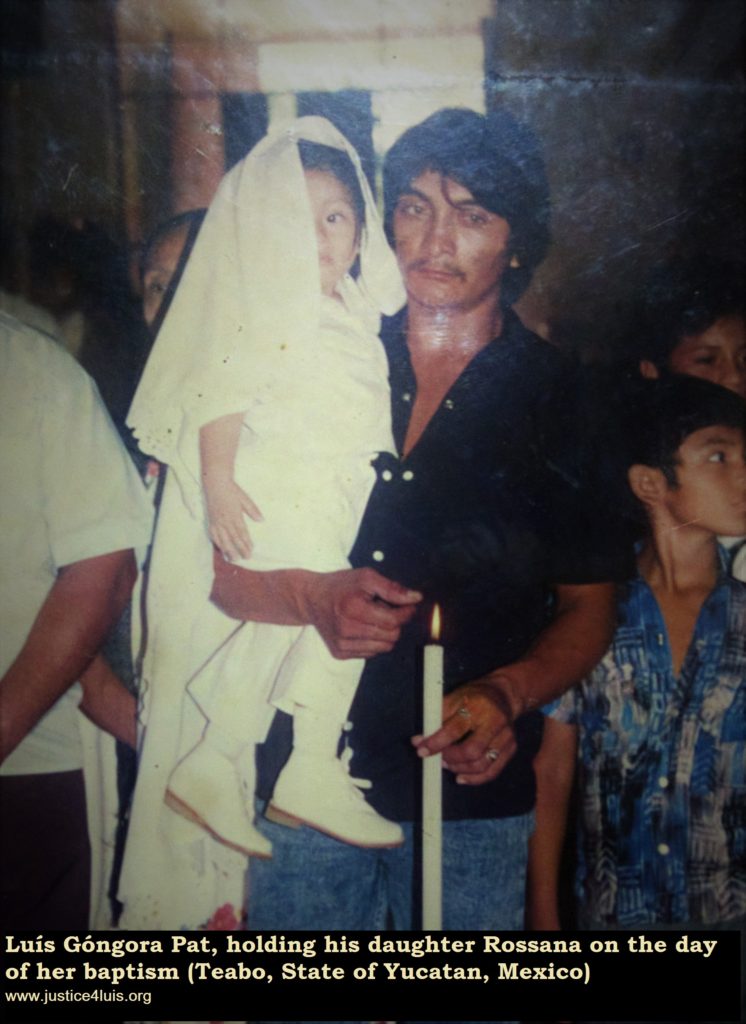 Luis Góngora Pat was an indigenous Mayan who moved to the city 14 years earlier. He made his living as a restaurant worker and sent money to his wife and three children in Teabo. He lost his job, then the apartment on Market and Valencia streets he shared with his brother and cousin in 2014. He lived in a homeless encampment on the 400 block of Shotwell Street.
According to police accounts, on April 7, 2016, Police heard a report from the Homeless Outreach Team that Góngora Pat was brandishing a knife. Two officers—Sgt. Nate Steger and Officer Michael Mellone—arrived at the encampment at 10:04 a.m.  Media obtained video footage showing the officers stepping out of their car and ordering Góngora Pat to get down on the ground.
In a 28-second span, the officers shot six rubber bullets and five live rounds. Góngora Pat died shortly afterward. An autopsy indicated that he was already down when the killshot entered his forehead. A diagram from that autopsy also showed that he spun his body around, using his arm to shield himself.
But encampment residents also noted that Góngora, a Mayan who spoke little English or Spanish, couldn't understand the officers' commands. In subsequent media stories, other neighborhood residents—including camp dwellers— disputed the police's claim that Góngora Pat lunged at the officers with his knife. Some noted that he carried a knife for defensive purposes.
Shotwell Street's 400 block was the starting point of the anniversary procession. It began with a solemn Mayan ritual that included a performance by Aztec dancers. The march stopped at three other significant areas: the neighborhood police station where the officers are assigned, the area near his old building on Market and Valencia, and the steps of City Hall.
Those intersections also represented a nexus of gentrification, anti-immigrant sentiment and heavy-handed enforcement on homeless people, according to advocates. Laura Guzman, director of the Mission Neighborhood Resource Center, noted that the city's housing policies displaced 8,000 Latinos and left another 8,000 at risk.
The killing of Luis Góngora Pat was one of 11 police-involved shooting deaths in the city since 2014. Like Góngora Pat, most were people of color. Only two of those deaths—Alex Nieto's in 2014 and Amilcar Perez Lopez's in 2015—saw any disposition from the district attorney's office: it declined to charge the officers involved in both cases.
In the absence of criminal charges, a federal civil rights trial is scheduled for October 23, 2018. The distant court date isn't just factored by the usual litigation requirements of motions, discovery and hearings. The city attorney's office said that other police cases are also winding through the legal system.
In the meantime, Góngora Pat's family is waiting for an explanation. They said in a statement, "Today marks a year since the death of Luis, our beloved father, an exemplary father, a great son and a great husband, whom the San Francisco police took away from us. The culprits are still free. How is that possible in a city like San Francisco? All we ask is justice for our father."