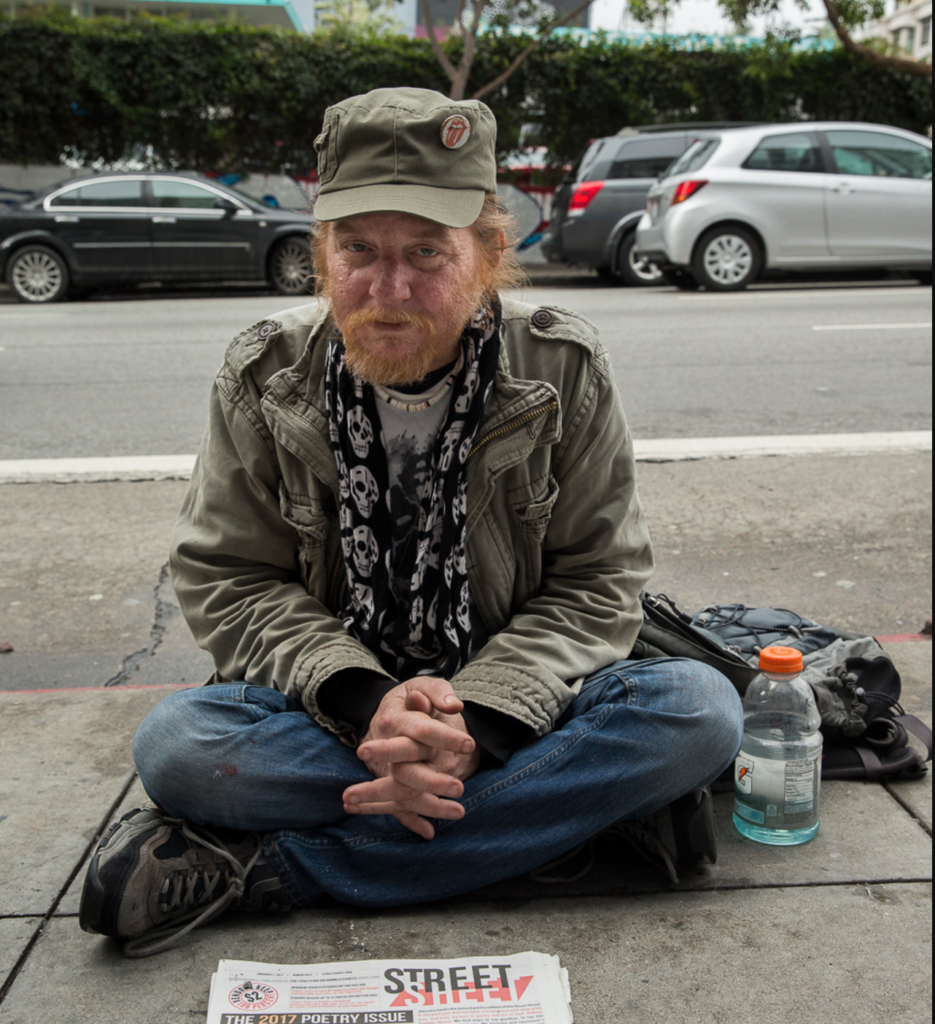 One of one of our dear vendors, Robert Scallon, passed away on April 27th, 2017 in Golden Gate Park.
"I used to encounter Rob several times a week as I walked down Larkin to the Street Sheet office on Turk. Rob would be manning his post outside Saigon Sandwich, cheerfully vending the latest issue," says Scott Nelson, Street Sheet vendor coordinator. "Sometimes his customers would give him a sandwich from the store, and on more than one occasion he offered the sandwich to me. Rob was a really friendly person, always in a good mood, and a true believer in the benefits of cannabis use. We will sincerely miss him at the Street Sheet."
Rest in power, Robert. You are already missed. The following is his vendor profile.
I'm on GA [general assistance], and it pays for my rent. But I don't have any money besides that, so I sell the Street Sheet to make ends meet. To buy dinner and whatever I need. Pocket change, basically. I've been selling for about three years now, and it's been able to feed me.
I was born in Miami. I grew up in Fort Lauderdale. I moved to Chicago when I was 21 and I moved out here in 2009 with my wife. It's like I moved west across the continent.  I love it here in Cali. It's a great state and there are beautiful people. My wife wanted to come out here to California and I promised her I would take her, so I did, but she passed away two years ago.
I was working, but I got sick when I came out here. I used to sell advertisements for radio stations, and it was a pain in the ass. It was so cut throat, but I did well at it. That was when I was younger; I'm mellow now. I don't want to be hyped up like that anymore. I got a heart disease, a heart failure actually. I really just cannot work anymore and so I sit here and sell the papers. I love this neighborhood [the Tenderloin]; I love sitting here and meeting all of these people. One of my favorite things about the Tenderloin is that it's real. People here are real. They're full of love, you know? I appreciate that. You got some knuckleheads, of course, but people here are genuine, and I really like that.
Saigon Sandwich is my favorite spot in the Tenderloin. It's where I sell the Street Sheet everyday. I have a lot of regular customers—I had one guy hand me a hundred dollars for a paper! I just sit here and I conversate with people in my neighborhood. I'm just a cat out here selling papers.
If I could tell my younger self anything, I would tell him, think before you act, because when you go off and do something, you might screw up real quick.