In the pouring rain, City officials started clearing a homeless encampment at 7am on January 10. Named Box City for its wooden boxes that sheltered a community made up of 30 to 40 homeless people, including a tight-knit group of Tagalog speaking Filipinos, the encampment had been around since September of last year and was located along the freeway on 7th street and Irwin.
Some boxes that were cleared by the Department of Public Works had been identified as abandoned by the residents of the encampment; others people rushed to save by dragging across to the other side of the street. Other shelter structures that the residents wanted to claim have been stored away by the City at Pier 50, a practice that typically is not employed when clearing encampments. This had been negotiated by the Saint Francis Homelessness Challenge, which has been working with the encampment to improve livability in the streets, including raising money to install and consistently service a Porta Potty.
As the residents hurried to move their possessions and shelter across the street, Box City residents were offered a 30 night stay at the mission Navigation Center, a low barrier shelter for homeless people. However, the problem will remain: Thirty days at a shelter, even with case management, will not—and has not—led to housing.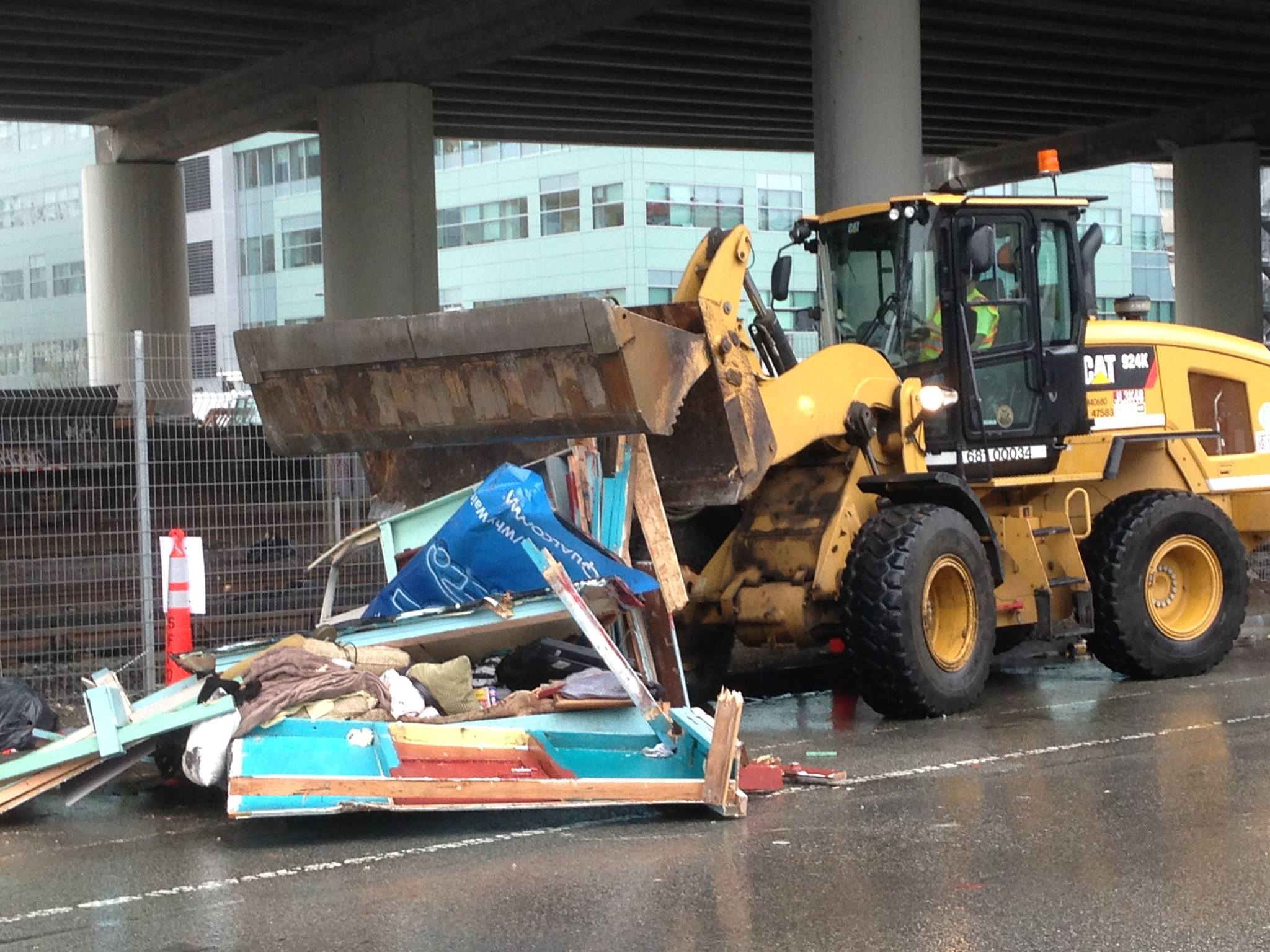 The Department of Homelessness argues that the thirty days is longer than that. It's meant to be a triage center, where people's needs will be assessed and adequate services will follow.
However, the reality for most is that the Navigation Centers are only another temporary shelter stay. While it had previously been an exit into housing, the exit is now often just to another shelter.
The Box City residents' time at the Navigation Center is almost up, but many of them will be back on the streets. The majority of residents will be moving out on the sixth or seventh of February, as permanent supportive housing would have required being on the street for 13 years or more, having certain health conditions, or being a veteran, among other eligibility criteria.
The adult shelter waitlist has consistently been over 900 people long. Encampments sweeps by the City continue to be ineffective in solving homelessness, instead displacing people without providing any real alternatives.
"Everyone on the front line from the SF Homeless Outreach Team to SFPD to the Department of Public Works knows this is a messed up situation," says Kelley Cutler, a human rights organizer at the Coalition on Homelessness. "The clearing of an encampment is a traumatizing experience for the people living there."
Despite the improvements of the treatment of homeless encampments, which now provide encampments with a two-week eviction notice, the encampment clearings still do not follow the U.S. Interagency's Council on Homelessness guidelines: The bottom line is there needs to be permanent housing or transitional housing that leads to permanent housing in order for encampments to be cleared. ≠
Images courtesy of COHSF.