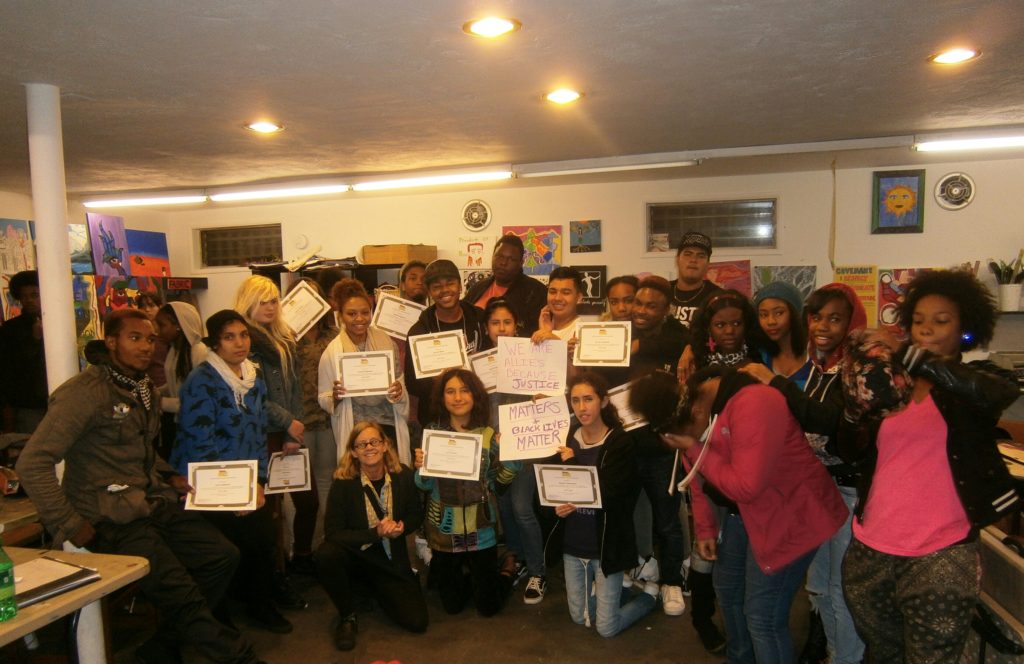 In 1995, a monthly newspaper, Street Spirit, was launched in Oakland to serve the needs of homeless people in the East Bay. Sold on the street by homeless vendors who were allowed to keep all money earned, the paper was funded by the American Friends Service Committee (AFSC), which paid for office space, printing costs, and the salaries of an editor and vendor coordinator.
The newspaper received strong public support and widespread media praise for its hard‑hitting articles and professional design. But in June 2016, the AFSC announced that it would cease funding Street Spirit as of December 31, 2016.
Eisha Mason, Associate Regional Director for the AFSC's West Region, explained: "Due to a reduction in funding, AFSC is laying down three programs this year, including Project HOPE, which publishes Street Spirit. The decision to end a program is always very painful for us, since the communities we work with experience extreme injustice, and this is certainly true of Street Spirit."
"The news came as a complete shock to all of us, especially since Street Spirit had just completed our most successful year ever," said Terry Messman, the newspaper's editor since the beginning. "I was stunned to realize that more than 100 disabled, elderly and homeless vendors would lose their livelihood. And all the dozens of writers who have done such dedicated work for Street Spirit would be silenced, and all the activist groups we stand in solidarity with would lose their major media outlet."
The AFSC agreed to let the paper continue publication if it could keep itself afloat. In September, the Quaker‑based Youth Spirit Artworks (YSA) in Berkeley invited Street Spirit to become part of its organization. The offer was accepted.
Sally Hindman, executive director of YSA and a member of Berkeley's Strawberry Creek Friends Meeting, said in a telephone interview that YSA has already raised $27,000 for the coming fiscal year, and that the AFSC made a grant to pay Terry Messman's salary until July.
"Over a dozen people have already come forward with significant gifts," said Hindman. "We're developing a whole base of donors for Street Spirit. We are submitting a number of grant proposals and doing more fund‑raising too," In addition, the vendors are asked to contribute 5 cents for each issue sold, which raises hundreds of dollars each month.
"Youths from Youth Spirit Artworks got involved in the decisionmaking," said Hindman. "Around 25 people came to the meeting. There was a real sense that Youth Spirit Artworks wanted to do it, and felt called to do it, so we're all extremely excited and revved up about it."
While Street Spirit has a long way to go before it can match the amount of funding it formerly received from the AFSC, Hindman has plans for expanding the newspaper's coverage of homeless children.
"We're going to have a homeless youth group that will be generating materials for Street Spirit starting in January," she continued, "and there are some interesting possibilities of deep linkages with Strawberry Creek Friends Meeting. Our whole foundation of the organization at Youth Spirit Artworks is Quaker, and there's huge support from the meeting in our ministry."
Added Eisha Mason: "We did our best to be responsible by setting a date for ending the program that was six months out, with the hope that the local community would be able to support the newspaper. This does seem to be taking place, and we anticipate Street Spirit will be able to continue, which we are very grateful for, as it is such a valuable community resource. For 22 years the paper has provided income for homeless people, given a platform to activists and artists to change public perceptions of homeless people, and broken stories around homeless issues others weren't covering. We are proud of this work and hope to see Street Spirit continue for years to come."
Max Millard is an after-school enrichment teacher at San Francisco Friends School. He is a former associate editor of Street Sheet.
Featured image courtesy of Max Millard.