On Friday afternoon a handful of Mission District residents experiencing homelessness found shockingly violent threats taped to their tents. The typed notices referred to the campers as "JUNKIE MOTHER F***ERS" and warned that they would be the targets of vicious attacks if they were still present in the area after sunset that night.
The sign itself contained shockingly violent language, threatening "IF YOU ARE STILL HERE AFTER DARK TONIGHT, the hunters will become the hunted. We will pound you, burn you, beat you and f*** you up if you are within 100 yards of this park starting after sun down tonight. WE ARE COMING FOR YOU."
One resident told Kelley Cutler, a Human Rights organizer with the Coalition on Homelessness, that he had seen a person posting the threats and confronted them, only to be attacked with  pepper spray and to have a gun pulled on him. Cutler said residue from the attack was still visible on the victim's body when they spoke. The victim was able to note down the license plate number of the suspect. Police were notified of the threats and the assault on the homeless resident and are currently investigating this attack.
The notice was signed "-THE NEIGHBORS" but workers in the nearby businesses and passersby were surprised when asked about the threats. "This is very unnecessary and it's not the way to solve the problem." said Lane, a skateboarder at the park said he wasn't aware of any conflicts between the unhoused neighbors and those using the park during the daytime. "There has got to be a peaceful way."
Unhoused people have faced a string of publicized attacks in the past year, some with links to far-right neo-Nazi groups and others seemingly the actions of individuals. At the end of January a know Nazi agitator showed up to an encampment sweep in Oakland carrying an American flag on a heavy pole and antagonized campers, including trying to forcibly enter the tent of a Black transgender woman. Campers at the "First They Came For the Homeless" camp in Berkeley have also faced harassment from known Nazi organizers. In May of 2017 the East Bay Express reported on a string of arson attacks on homeless camps, and just this weekend a man died in a fire while in his tiny home structure.
Homeless San Franciscans have to defend against hostilities from the Department of Public Works and SFPD while also avoiding threats like this one from vigilantes. While campers nearby were upset and surprised by the intensity of the threats, it did not seem like anyone was making moves to leave the area.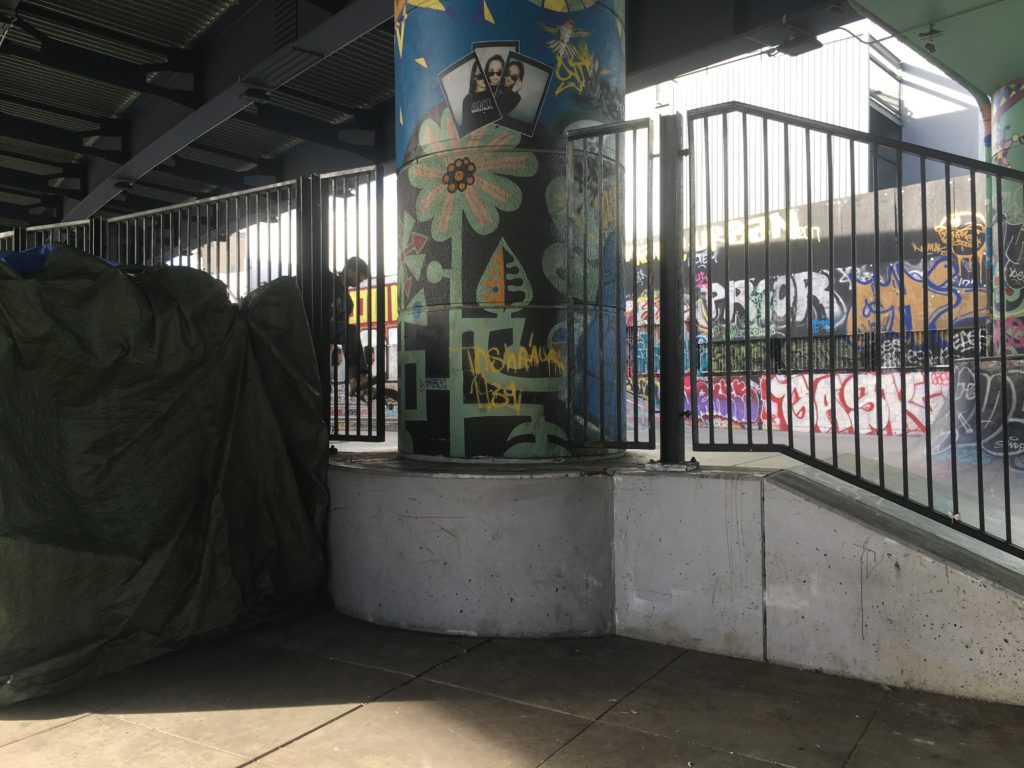 "I'm not going to move," said David, a nearby camper who found the threatening notice posted on his tent that afternoon. "I'm a Marine Corps veteran. I'm not very good at retreating."