350 Jones St. has a small and unassuming storefront, with a small door sandwiched between two glass display window. Inside, a small room is lined with metal shelves piled high with bulging black garbage bags. In fact, on any given day, you can find over 320 of those black garbage bags at 350 Jones.
Run by the Providence Foundation of San Francisco, the barely 700 square foot room is the only free storage space for more than 7,000 homeless people in San Francisco.
"The need is high," says Shucrita Jones, a shelter manager with Providence. "People don't want to carry their things all day, especially when it's raining."
The storage space limits clients to storing only clothing and shoes. This eliminates problems such as liquids leaking out or sharp objects tearing hole, but not the risk of bed bugs and other pest issues that could occur and spread between clothing.
Families are allowed two bags, while single adults are permitted one to store for up to six months. After a one-month interim, they are allowed to reapply for storage. Clients are allowed to come in once a day to access storage on weekdays. But the storage unit is almost always full and getting a spot can be elusive, with a first come, first serve policy.
It hadn't always been this way. Back when the storage facility was at another location, 150 Otis, there was much more space. With the move to Jones St., staff estimate that about 80 percent of that is now gone.
"We need a bigger space, we need a new building, and we need it now," says Letremonier Clark, who works at the storage facility.
Storage is especially important when some nonprofit agencies, including shelters, won't allow clients to access their services when they have too many things with them.
While there are other locations where homeless people are able to store their belongings, like longer-stay shelter beds and Navigation Centers, these are limited: Once someone's 90 or 30-day limit is up, so is their storage. Moreover, the storage space—typically a locker—is often too small to actually store much of anything.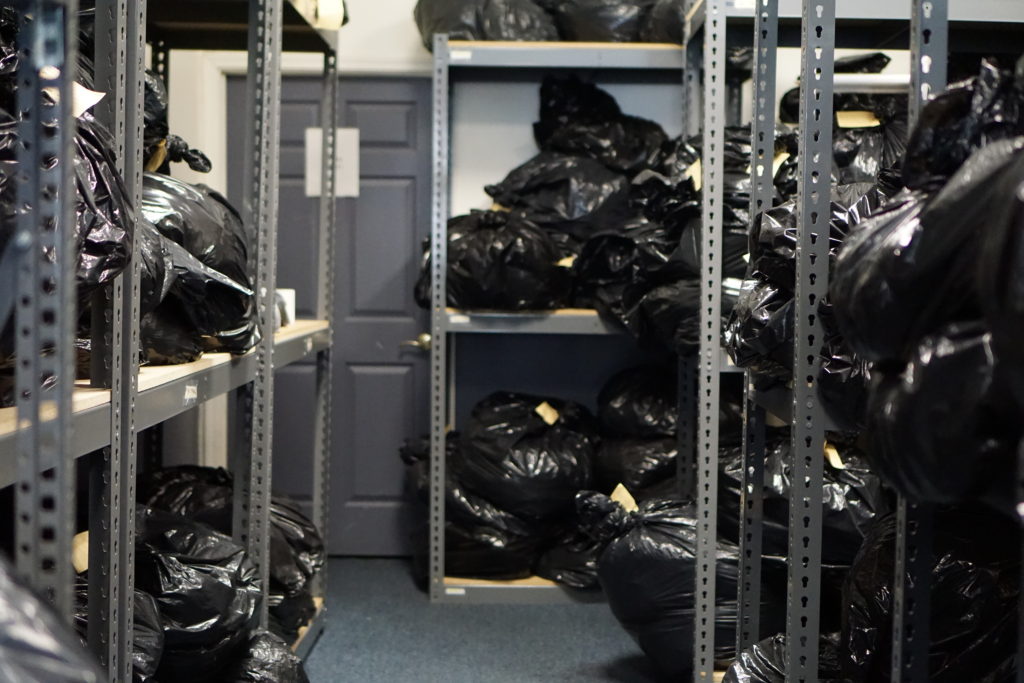 There are challenges to accessing some of the two other storage services that the city provides at a small fee (Think $5 for a deposit with a monthly charge of $2). Mother Browns, located in the Bayview, has 48 lockers, but applicants that have been on the waiting list since last year. And not just any applicant can get onto the waitlist: Eligibility requirements include being disabled, employed, or in school. The Mission Neighborhood Resource Center has a lottery, rather than a waitlist, on the first of each month for its 70 lockers.
When you don't have a home, storage is everything. Like many others, Shyhyene Brown, who has lived in both the encampments and Navigation Centers, pays for her own storage unit: "When you're homeless, people have a habit of taking from you. I put things in storage before people can take things." One of the things that she's had stolen is sentimental and irreplaceable: jewelry from her late mother's wedding day.
Brown chooses to pay for storage rather than use the City's, saying, "For me, it doesn't feel secure or safe." She'd rather have a storage shed with a lock and key—something that she can access on her own terms and with dignity. Peter Garcia echoes the same sentiments. Some of his belongings were stolen at the 150 Otis facility, and since then, he hasn't trusted the city's storage services.
Garcia shares a storage unit with a friend to reduce costs. While the price of the unit is $150 a month, he pays only $40. Still, it's a large chunk of money to dish out each month on a fixed income, but storage is so important that most people are willing to pay the price.
"People go to other parts of the Bay, like Alameda or Vallejo to store their belongings in facilities there because the price was almost half as much," Garcia says. "Carrying two or three bags in a cart makes you look homeless, and that isn't a good feeling."
Garcia's primary use for the storage is for clothing and other items, such as an iron, that he doesn't want to carry around. He cycles through his clothing when he does laundry, storing the clean clothes away for the next time.
"People can hold onto whatever they have left. And that's important to us."  ≠