Mark Farrell's abbreviated term as mayor will apparently be defined by one thing — the removal of tent dwellings from homeless San Franciscans. If so, that definitive moment came April 25, when otherwise unhoused people who have erected tents and other improvised shelters were swept out of an area under the U.S. Highway 101 overpass in the latest of street evictions.
Under orders from Farrell, police and public works crews appeared in full force and began breaking down an encampment on Division Street around 6 a.m. This happened five days after Farrell announced that he would send cops, street cleaners and public health staff to the Mission District to move street people off the sidewalk.
"Enough is enough. We've offered services time and time again and got many off the street, but this is a resistant population that remains, and their tents have to go," he told the San Francisco Chronicle.
On the weekend before the sweep, members of the Coalition on Homelessness, which publishes Street Sheet, visited encampments to alert residents. They were also on hand to monitor City workers during the sweep. These clearances have already been occuring frequently, according to updates on the Coalition's Sweeps Watch Facebook page.
The last time the City conducted a large- scale removal of tent dwellers on Division was in 2016 — when San Francisco played host for the Super Bowl celebrations. But the operating procedure in the more recent sweeps differed somewhat: Usually, Homeless Outreach Team workers are on the scene with staff from the other agencies. This time, they were stationed at the corner of Folsom Street waiting for newly displaced while police and Public Works were overseeing the decamping outside a Best Buy store almost one half-mile away.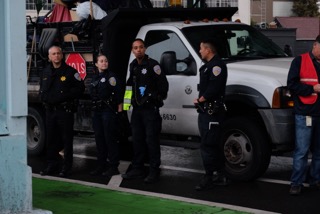 Similar to 2016, Public Works sprayed the road before clearing the sidewalk and threw out whatever possessions residents couldn't carry away.
Farrell restated his intent to remove camps when announcing a campaign to increase street collection of syringes at an April 23 press conference in the South of Market neighborhood.
"We'll be implementing Prop. Q in a more aggressive way," he said, referring to the 2016 ballot measure he authored as a supervisor. Proposition Q enables City employees to remove tents with only 24 hours' notice.
Farrell's publicizing of increased needle removal was made with the same vigor as his earlier statements on encampments. Couched in public health and safety terms, his language conflated both the emergence of homeless camps and prevalence of syringe litter as threats to the general population.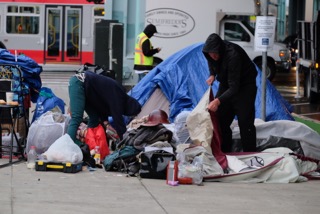 The City Administrator's office noted ever-increasing numbers reported on both syringes and encampments to 311 calls in the last five years. The office responded to a public records request, finding that service requests on encampments numbered at 888, and syringe calls at 1,009 in 2013; figures from 2017 show reports of encampments at 42,145, and needles at 9,540.
Media depictions and elected officials alike often link homeless people with intravenous drug use and criminal activity, and at the South of Market press event, Farrell invoked these maligned images.
"At some point, here after months and months of trying, there is a service-resistant population that just wants to be there," he said. "Again, this is the population that contributes to the crime, to the rapes, to the additional public safety issues."
For all Farrell's rhetoric of the availability of homeless services, the Coalition on Homelessness counters with some telling numbers from the City itself, such as 1,300 shelter beds for a population estimated at 7,500, as well as a shelter reservation waitlist that's at least 1,000 people long. Still, Farrell has insisted that the City, with its shelters and Navigation Centers, can accommodate them despite these figures.
When the Navigation Centers first opened, they were viable options for encampment residents, allowing people to move in with their pets, partners and possessions while they wait for housing. Fast forward three years, the best the City can offer the latest evacuees is a mat at the Next Door shelter for seven days, and they can't bring their belongings inside. But temporary shelter stays are just a band-aid solution, said Coalition organizer Kelley Cutler.
"Folks aren't advocating that tents are adequate housing. We aren't advocating for encampments as the solution," she said. "Housing is the solution. We are saying that we need to look at the reality of the situation, to be honest. We are in a housing crisis. The City doesn't have the necessary resources."