Millions March Globally To Protest Unsustainable Environmental Practices and Policies
by Quiver Watts
Young children crouched with paintbrushes over brightly painted murals as Food Not Bombs volunteers wandered around offering cups of water or slices of watermelon to beat back the scorching heat. An ATM machine was blocked by a banner bearing a menacing depiction of Brazilian authoritarian Jair Bolsonaro while hand painted signs carried strident demands for climate action. Crowds swayed to the beat as musicians strummed and sang, their voices carried by bike-powered speakers.

This was the scene set at Montgomery Street on September 25th, as thousands of demonstrators shut down two full blocks in the Financial District demanding that businesses stop investing in companies that are actively harming the climate and decimating indigenous communities. The area was painted with two dozen circular murals by various groups demanding justice.

From September 20-27, millions of people from all over the world converged on city centers, financial districts, bank offices, consulates, and other sites to demonstrate the urgency of addressing climate change and the failure of global leaders to take meaningful action. Many of these demonstrations were led by youth who are going to be most impacted by changing weather weather patterns, rising tides, ecofascism and resource depletion.

"I am a youth, and as a youth I know most youth don't get a chance to speak out, or they're scared and can't speak out because they are afraid," said Amiya Butler with Youth Vs. the Apocalypse, a youth coalition based in Oakland fighting for a livable climate and an equitable, sustainable, just world. Butler says that as a Black person, she feels called to speak up for people of color whose voices aren't being listened too, even though they stand to bear the brunt of the impact of climate change. Coming off the last week of strike, she is heartened; "I feel inspired too because I didn't expect so many people to come out to fight for the climate. Especially seeing the adults out there standing up for us and fighting for our future."

The numbers are staggering: news outlets have reported between 4 and 6 million people participated in strikes or demonstrations during the week. From here in San Francisco, to Taiwan, to Ghana, to New Zealand, people walked out of work and out of classes to demonstrate their support for action to address the climate crisis.

Indigenous-led groups played a significant role in organizing the Climate Strike, and the priorities of indigenous leadership were represented in the murals painted on Montgomery Street. A mural painted by Brasilian Solidarity Network called for a "Return to the Old Ways", while ColombiaConexion's mural called for an end to the ongoing murders of climate activists in Colombia, Brazil, the Philippines, and Mexico. Another mural by Pacific Islander Climate Justice read "Migration is Natural, We Are All Related".

The Climate Strike list of demands also made clear a priority to respect the leadership of frontline communities who are directly harmed by extraction and climate crisis, reading "Frontline communities must have a voice and leadership role, and we look to indigenous communities to lead the transition to a just and sustainable world." During the week of action Idle No More also organized a youth demonstration outside of the Chevron refinery in Richmond to protest the oil behemoth's extraction of natural resources, harming of frontline communities, and pollution of its Bay Area neighbors.

How Homeless People Are Impacted By Climate Crisis

Critically, many of the organizations calling for action are drawing connections between the climate crisis we are currently facing and the broader social problems of poverty and capitalism, pointing out that poor people are facing the effects of climate change first.

"Climate change is inherently class war," said Jesse Dekel, an activist with the International Workers of the World (IWW) union in Montreal. "In the winter homeless people are freezing to death because of rapidly increasing temperature spikes, and in Summer they're dying of heat exhaustion and dehydration. During heat waves you see people passed out because of heat stroke, and I really don't think passing around bottles of water is enough."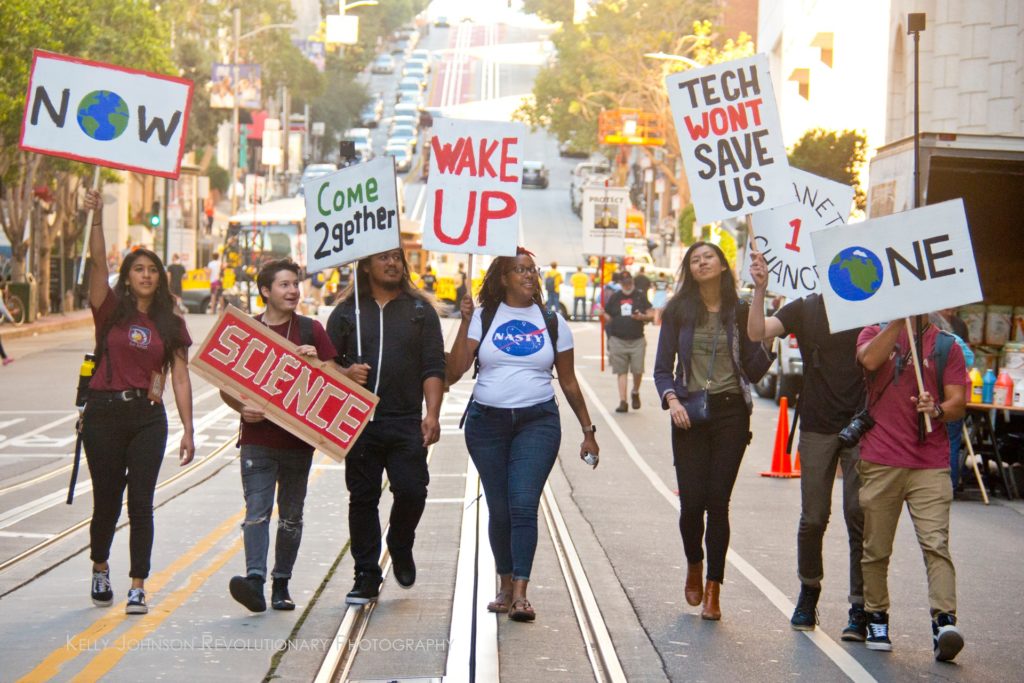 As San Francisco finds itself facing dramatic weather changes we are already experiencing what Dekel describes. The Department of Homelessness and Housing (HSH) has dragged its feet in releasing any detailed information about how it handles heat waves, it's "Hot Weather Protocol", besides sending out email alerts to service providers and sending HOT Team members out with water bottles to distribute. But with temperatures over 90F over the last few weeks, homeless people are at increased risk of dehydration, heat exhaustion, heat stroke, which can be a cause of permanent health effects, including brain or organ damage.